---
The University of Siena PhD Course in
Genetics, Oncology and Clinical Medicine

---
PhD Graduate
---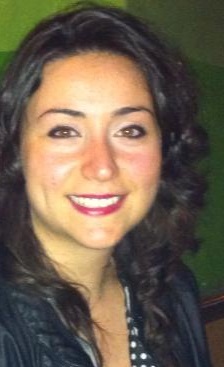 Sonia AMABILE 
PhD Program years: 2011 - 201

PUBLICATIONS DURING THE PHD PROGRAM
      1. "Interstitial 22q13 Deletions not involving SHANK3 gene: A new contiguous gene syndrome."
      Disciglio V, Lo Rizzo C, Mencarelli MA, Mucciolo M, Ndoni N, Frullanti E, Marozza A, Di Marco C, Amabile S, Baldassari M,                Massarelli A, Canocchi V, Anderlid BM, Metcalfe K, Le Caignec C, David A, Fryer A, Boute A, Joris A, Greco D, Pecile V, Battini R,          Novelli A, Fichera M, Romano C, Mari F, Renieri A
      Accepted to American Journal of Medical Genetics: Part A
     2. 
"Telethon Network of GeneticBiobanks: a Key Service for Diagnosis and Research on Rare Diseases."
      Filocamo M, Baldo C, Goldwurm S, Renieri A, Angelini C, Moggio M, Mora M, Merla G, Politano L, GaravagliaB, Casareto L,                Dagna Bricarelli F, Corsolini F, Galotto S, Mazzotti R, Stroppiana G, Castagnetta M, Mogni M, Viotti V, Bonetti A, Felici F, Natuzzi        F, Amabile S, Frullanti E, Meloni I, Fanin M, Nascimbeni A, Pegoraro E, Peterle E, Napoli L, Ripolone M, Sciacco M, Violano R,                Canioni E, Gibertini S, Saredi S, Zanotti S, Fusco C, Micale L, Pellico M T, Zelante L, D'Ambrosio P, Picillo E, Taglia A, Barzaghi C,            Panteghini C, Valletta L.
      In press to Orphanet Journal of Rare Diseases
     3. "GluD1 is a common altered player in neuronaldifferentiation from both MECP2-mutated and CDKL5-mutated iPS."
     Livide G, Patriarchi T, Amenduni M, Amabile S, Yasui D, Calcagno E, Lo Rizzo C, De Falco G, Ulivieri C, Ariani F, Mari F, Mencarelli         MA, Hell JW, Renieri A, Meloni I.
     Submitted tom European Journal of Human Genetics
ABSTRACTS OF CONFERENCE DURING THE PHD PROGRAM
      1. "Oxidative stress in primaryskinfibroblastcultures from MeCP2 mutated Rett syndrome" IIIth European Rett Syndrome                      Conference - Maastricht 2013

      2. "Sindrome di Rett congenita: studio del ruolo del gene Foxg1 nel cervello adulto" XXVIth Italian Congress of Medical Genetics        SIGU - Roma 2013

      3. "Investigating the geneticbasis of Poland Syndrome by exome sequencing" XXVth ItalianCongress of Medical Genetics SIGU -        Sorrento 2012
 
      4. "Uncovering recessive likelypathogenicvariants, using microdeletion syndromes with unusualphenotypes" XXVth Italian                    Congress of Medical Genetics SIGU - Sorrento 2012
ACTIVITY DURING THE PHD PROGRAM
TRAINING PERIOD ABROAD
Stylianos Antonarakis' lab

Department of Genetic Medicine and Development, University of Geneva Medical School and University Hospitals of Geneva Institute of Genetics and Genomics of Geneva, Geneva, Switzerland
3 months: May-July 2012
Flora Vaccarino's lab

Sterling Hall of Medicine, New Haven - Yale University
8 months: October 2013-June 2014
---