---
The University of Siena PhD Course in
Genetics, Oncology and Clinical Medicine

---
PhD Graduate
---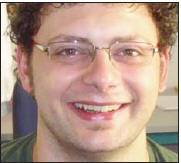 Alfonso CARLEO
PhD Program years: 2011 - 2014

PUBLICATIONS DURING THE PHD PROGRAM
 A methodological and functional proteomic approach of human follicular fluid en route for oocyte quality evaluation.
Bianchi L, Gagliardi A, Campanella G, Landi C, Capaldo A, Carleo A, Armini A, De Leo V, Piomboni P, Focarelli R, Bini L. J Proteomics. 2013 Mar 8.


Towards a functional proteomics approach to the comprehension of idiopathic pulmonary fibrosis, sarcoidosis, systemic sclerosis and pulmonary Langerhans cell histiocytosis.
Landi C, Bargagli E, Bianchi L, Gagliardi A, Carleo A, Bennet D, Perari MG, Armini A, Prasse A, Rottoli P, Bini L. J Proteomics. 2013 May 27.

ABSTRACTS OF CONFERENCE DURING THE PHD PROGRAM
1. 9th Siena Meeting 2012: "Proteomic Investigation of Interstitial Lung Diseases such as Sarcoidosis, Idiopathic Pulmonary Fibrosis, Langherans Cells Histiocytosis and Fibrosis Associated to Systemic Sclerosis - C.Landi, A.Carleo, L.Bianchi, M.Puglia, A.Gagliardi, M.Cipriano, A.Armini, E.Bargagli, P.Rottoli, L.Bini
2. ItPA Viterbo 2012: "Plasma Sample Processing for SELDI-ToF Analysis in HIV Seropositive Patients" – Claudia Landi, Barbara Magi, Assunta Gagliardi, Michele Puglia, Maria Cipriano, Alfonso Carleo, Andrea De Luca, Luca Bini, Laura Bianchi.
3. 6th International WASOG Conference on Diffuse Parenchymal Lung Diseases 2013: "Proteomic analysis of bronchoalveolar fluid lavage in patients with idiopathic pulmonary fibrosis" - Bargagli E., Landi C, Carleo A, Perari M.G., Bennett D., Carobene L. Bini L., Rottoli P
4. ItPA Padua 2013: "Comparative proteomic analysis of Bronchoalveolar Lavage Fluid among Idiopathic Pulmonary Fibrosis patients, smoker and no-smoker subjects" - Alfonso Carleo, Claudia Landi, Elena Bargagli, Laura Bianchi, Assunta Gagliardi, Paola Rottoli, Luca Bini

5. ItPA Padua 2013: "Tyr-phosphotylated Proteins in Tuber borchii Vittad during micelial growth" - Assunta Gagliardi, Laura Bianchi, Claudia Landi, Alfonso Carleo, Raffaella Pierleoni, Vilberto Stocchi, Luca Bini

6. ERS - European Respiratory Society - 2-5 September 2012 Vienna: " The effect of cigarette smoking on BAL proteomic profile" - Rottoli P, Landi C, Bargagli E, Carleo A, Olivieri C, Di Sipio P, Refini RM, Bini L.
ACTIVITY DURING THE PHD PROGRAM
TRAINING PERIOD ABROAD
Hosting Institution Name
Location
Period dates


Hosting Institution Name
Location
Period dates


---