---
The University of Siena PhD Course in
Genetics, Oncology and Clinical Medicine

---
PhD Graduate
---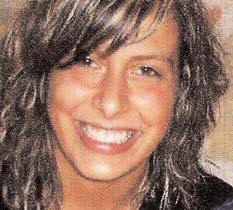 Martina COZZI
PhD Program years: 2009 - 2013

PUBLICATIONS DURING THE PHD PROGRAM
        1. 
New pyrazolo-[3,4-d]-pyrimidine derivative Src kinase inhibitors lead to cell cycle arrest and tumor growth reduction of                     human medulloblastoma cells.
           Rossi A, Schenone S, Angelucci A, Cozzi M, Caracciolo V, Pentimalli F, Puca A, Pucci B, La Montagna R, Bologna M, Botta M,               Giordano A.
           FASEB J. 2010 Aug;24(8):2881-92.
       2. 
Antitumor activity of new pyrazolo[3,4-d]pyrimidine SRC kinase inhibitors in Burkitt lymphoma cell lines and its enhancement             by WEE1 inhibition.
           Cozzi M, Giorgi F, Marcelli E, Pentimalli F, Forte IM, Schenone S, D'urso V, De Falco G, Botta M, Giordano A, Indovina P.
           Cell Cycle. 2012 Mar 1;11(5). [Epub ahead of print]
ABSTRACTS OF CONFERENCE DURING THE PHD PROGRAM
        1. Small molecules mimicking the spa310 peptide from the spacer region of pRB2/p130 as potential anticancer agents (Fifth                   Annual Scientific Conference. ITT, Sede: Il Borro. San Giustino Valdarno , Italia, 1/7/2010)
      2. A selective CDK inhibitor mimicking the Spa310 as a potential anticancer agent. Esposito Luca, Conti Daniele, Cozzi Martina,              Di Marzo Domenico, Forte Iris Maria, Indovina Paola, Pentimalli Francesca and Giordano Antonio(13° congresso Nazionale del            GOM, Bari, 19-22 Giugno 2011)
ACTIVITY DURING THE PHD PROGRAM
TRAINING PERIOD ABROAD
Hosting Institution Name
Location
Period dates


Hosting Institution Name
Location
Period dates


---