---
The University of Siena PhD Course in
Genetics, Oncology and Clinical Medicine

---
PhD Graduate
---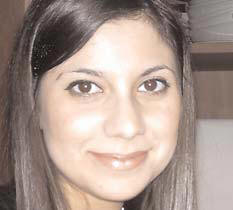 Roberta DE FILIPPIS
PhD Program years: 2007 - 2011

PUBLICATIONS DURING THE PHD PROGRAM
1) Novel FOXG1 mutations associated with the congenital variant of Rett syndrome.
Mencarelli MA, Spanhol-Rosseto A, Artuso R, Rondinella D, De Filippis R, Bahi-Buisson N, Nectoux J, Rubinsztajn R, Bienvenu T, Moncla A, Chabrol B, Villard L, Krumina Z, Armstrong J, Roche A, Pineda M, Gak E, Mari F, Ariani F, Renieri A.
J Med Genet. 2010 Jan;47(1):49-53. Epub 2009 Jul 2.

2) Array comparative genomic hybridization in retinoma and retinoblastoma tissues.
Sampieri K, Amenduni M, Papa FT, Katzaki E, Mencarelli MA, Marozza A, Epistolato MC, Toti P, Lazzi S, Bruttini M, De Filippis R, De Francesco S, Longo I, Meloni I, Mari F, Acquaviva A, Hadjistilianou T, Renieri A, Ariani F.
Cancer Sci. 2009 Mar;100(3):465-71. Epub 2009 Jan 29.

3) The XLMR gene ACSL4 plays a role in dendritic spine architecture.
Meloni I, Parri V, De Filippis R, Ariani F, Artuso R, Bruttini M, Katzaki E, Longo I, Mari F, Bellan C, Dotti CG, Renieri A.
Neuroscience. 2009 Mar 17;159(2):657-69. Epub 2008 Dec 24.
ABSTRACTS OF CONFERENCE DURING THE PHD PROGRAM
1) The Italian Rett Syndrome Biobank and Database (6th Rett Syndrome Congress, Parigi, Francia, 10-13/10/2008)
2) Il gene ACSL4 è importante nell'architettura delle spine (SIGU2008, Genova, Italia, 23-25/11/2008)
22- Functional characterization of the X-linked mental retardation gene ACSL4 (ASHG, Philadelphia, USA, 11-15/11/2008)
3) Functional characterization of the X-linked mental retardation gene ACSL4 (ESHG, Barcellona, Spagna, 31/05/2008- 03/06/2008)
4) Diagnostic flow-chart for Rett syndrome (1st European Congress on Rett Syndrome, Milano, Italia, 5-7/6/2009)
5) Mutazioni in FOXG1 che causano ridotta affinità per la cromatina, sono responsabili della sindrome di Rett nella variante "Rett fruste" con fenotipo sovrapponibile a quello da mutazione in EHMT1 (SIGU 2010, Firenze, Italia, 14-17/10/2010)
6) Induced pluripotent stem cells as a human model to study disease mechanisms in Rett syndrome. (2nd European Rett syndrome Conference , Edinburgh, Scotland, 7-10/10/2010)
7) FOXG1 mutation leading to reduced chromatin affinity causes "Rett fruste" overlapping with EHMT1 phenotype. (2nd European Rett syndrome Conference, Edinburgh, Scotland, 7-10/10/2010)
8) A novel mild phenotype associated with FOXG1 gene (ESHG 2010, Gothenburg, Sweden, 12-15/6/2010)
ACTIVITY DURING THE PHD PROGRAM
TRAINING PERIOD ABROAD
Hosting Institution Name
Location
Period dates


Hosting Institution Name
Location
Period dates


---