---
The University of Siena PhD Course in
Genetics, Oncology and Clinical Medicine

---
PhD Graduate
---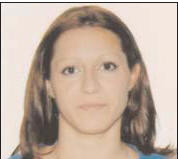 Elena GIANCHECCHI 
PhD Program years: 2008 - 2012

PUBLICATIONS DURING THE PHD PROGRAM



Adenosine A2A receptor activation stimulates collagen production in sclerodermic dermal fibroblasts either directly and through a cross-talk with the cannabinoid system.
Lazzerini PE, Natale M, Gianchecchi E, Capecchi PL, Montilli C, Zimbone S, Castrichini M, Balistreri E, Ricci G, Selvi E, Garcia-Gonzalez E, Galeazzi M, Laghi-Pasini F.
J Mol Med (Berl). 2012 Mar;90(3):331-42.


Synthetic cannabinoid ajulemic acid exerts potent antifibrotic effects in experimental models of systemic sclerosis.
Gonzalez EG, Selvi E, Balistreri E, Akhmetshina A, Palumbo K, Lorenzini S, Lazzerini PE, Montilli C, Capecchi PL, Lucattelli M, Baldi C, Gianchechi E, Galeazzi M, Pasini FL, Distler JH.
Ann Rheum Dis. 2012 Apr 4.
ABSTRACTS OF CONFERENCE DURING THE PHD PROGRAM
1) Adenosine A2A receptor activation stimulates collagen production in sclerodermic dermal fibroblasts either directly, and through a cross-talk with the cannabinoid system. Gianchecchi E. (15° National Seminar of PhD candidates in "Pharmacology and Related Sciences", Bologna, 14– 17 September 2011)

2) Expression and function of the P2X7 purinergic receptor in peripheral blood mononuclear cells from patients with Behcet's.
Castrichini M, Lazzerini PE, Capecchi PL, Franceschini R, Gamberucci A, Hammoud M, Moramarco A, Natale M, Gianchecchi E, Montilli C, Ricci G, Zimbone S, Galeazzi M, Laghi Pasini F. (35° Congresso Nazionale della Società Italiana di Farmacologia. Bologna, 14-17 Settembre 2011)

3) Adenosine a2a-dependent modulation of collagen production from human sclerodermic fibroblasts. Capecchi PL, Lazzerini PE, Natale M, Gianchecchi E, Montilli C, Castrichini M, Balistreri E, Ricci G, Selvi E, Garcia-Gonzalez E, Galeazzi M, Laghi Pasini F. (Fourth Joint German –Italian Purine Club Meeting. Bonn, July, 22-25, 2011)

4) A2A and CB1 receptors form heterodimers and functionally interact in human dermal fibroblasts: a new target for modulating collagen production in systemic sclerosis? Capecchi PL, Lazzerini PE, Natale M, Gianchecchi E, Castrichini M, Montilli C, Balistreri E, Pompella G, Selvi E, Garcia-Gonzalez E, Lorenzini S, Galeazzi M, Laghi Pasini F. (Abstracts from Purines 2010 Meeting. Tarragona-Barcelona, 30th May-2nd June,2010)

5) Sinergismo tra i sistemi purinergico e cannabinoide nella inibizione della produzione di collagene in fibroblasti umani sclerodermici.
Capecchi PL, Lazzerini PE, Natale M, Lorenzini S, Selvi E, Garcia-Gonzalez E, Balistreri E, Castrichini M, Gianchecchi E, Pompella G, Galeazzi M, Laghi Pasini F. (Società Italiana di Medicina Interna Sezione Toscana-Umbria. Arezzo, 23 gennaio 2010)

6) A2A and CB1 receptors form heterodimers and functionally interacr in human dermal fibroblasts: a new target for modulating collagen production in systemic sclerosis? Gianchecchi E (XIV Seminario Nazionale per Dottorandi in Farmacologia e Scienze Affini, Attività Didattico-Formativa Post-Laurea. Certosa di Pontignano, Siena, 20-23 Settembre 2010)


7) Synergistic anti-fibrotic effect of purinergic and cannabinoid system modulation in human sclerodermic fibroblasts. Natale M, Capecchi PL, Lazzerini PE, Lorenzini S, Selvi E, Castrichini M, Gianchecchi E, Pompella G, Galeazzi M, Laghi Pasini F. (34° Congresso Nazionale della Società Italiana di Farmacologia. Rimini, 14-17 Ottobre 2009)

8) Purinergic and cannabinoid systems modulate collagen production in human sclerodermic fibroblasts: towards a multi-target therapeutic approach in systemic sclerosis? Capecchi PL, Lazzerini PE, Natale M, Lorenzini S, Selvi E, Castrichini M, Gianchecchi E, Pompella G, Galeazzi M, Laghi Pasini F. (Third Joint Italian-German Purine Club Meeting. Camerino, July, 17-20, 2009)
ACTIVITY DURING THE PHD PROGRAM
TRAINING PERIOD ABROAD
Department of Internal Medicine 3, Institute for Clinical Immunology, University of Erlangen-Nuremberg, Germany
2011: 4 months
---