---
The University of Siena PhD Course in
Genetics, Oncology and Clinical Medicine

---
PhD Graduate
---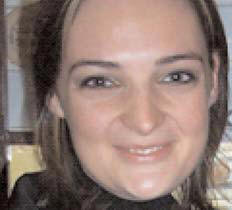 Elena MARCOCCI 
PhD Program years: 2006 - 2010

PUBLICATIONS DURING THE PHD PROGRAM
1. Autosomal dominant Alport syndrome: molecular analysis of the COL4A4 gene and clinical outcome.
Marcocci E, Uliana V, Bruttini M, Artuso R, Silengo MC, Zerial M, Bergesio F, Amoroso A, Savoldi S, Pennesi M, Giachino D, Rombolà G, Fogazzi GB, Rosatelli C, Martinhago CD, Carmellini M, Mancini R, Di Costanzo G, Longo I, Renieri A, Mari F.
Nephrol Dial Transplant. 2009 May;24(5):1464-71.
ABSTRACTS OF CONFERENCE DURING THE PHD PROGRAM
1) La sindrome di Alport autosomica dominante: report di un nuovo caso (IX congresso nazionale SIGU, Lido di Venezia, 8-10 novembre 2006)
2) Autosomal dominat Alport syndrome: molecular and clinical characteriziation in 8 families (Congresso nazionale SIGU, Genova, 23-25 novembre 2008)
3) Autosomal dominant Alport syndrome: molecular analysis of the COL4A4 gene and clinical outcome (ESHG, Barcellona, 31 maggio 2008-3 giugno 2008)
4) Impiego dell'array-CGH nell'analisi di materiale abortivo (XXII CONGRESSO SIGU, TORINO, 8-10 novembre 2009)
ACTIVITY DURING THE PHD PROGRAM
TRAINING PERIOD ABROAD
Hosting Institution Name
Location
Period dates


Hosting Institution Name
Location
Period dates


---