---
The University of Siena PhD Course in
Genetics, Oncology and Clinical Medicine

---
PhD Graduate
---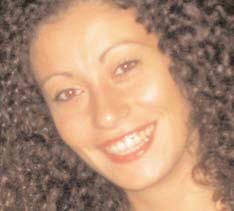 Mafalda MUCCIOLO Name SURNAME
PhD Program years: 2008 - 2012

PUBLICATIONS DURING THE PHD PROGRAM

1) 3.2 Mb microdeletion in chromosome 7 bands q22.2-q22.3 associated with overgrowth and delayed bone age.
Uliana V, Grosso S, Cioni M, Ariani F, Papa FT, Tamburello S, Rossi E, Katzaki E, Mucciolo M, Marozza A, Pollazzon M, Mencarelli MA, Mari F, Balestri P, Renieri A.
Eur J Med Genet. 2010 May-Jun;53(3):168-70.

2) Is HSD17B1 a new sex reversal gene in human?
Katzaki E, Papa FT, Mucciolo M, Uliana V, Renieri A.
Mol Cell Endocrinol. 2009 Dec 10;313(1-2):70; author reply 71.

3) Alport syndrome and leiomyomatosis: the first deletion extending beyond COL4A6 intron 2.
Uliana V, Marcocci E, Mucciolo M, Meloni I, Izzi C, Manno C, Bruttini M, Mari F, Scolari F, Renieri A, Salviati L.
Pediatr Nephrol. 2011 May;26(5):717-24.

4) Investigation of modifier genes within copy number variations in Rett syndrome.
Artuso R, Papa FT, Grillo E, Mucciolo M, Yasui DH, Dunaway KW, Disciglio V, Mencarelli MA, Pollazzon M, Zappella M, Hayek G, Mari F, Renieri A, Lasalle JM, Ariani F.
J Hum Genet. 2011 Jul;56(7):508-15.

5) Corpus callosum abnormalities, intellectual disability, speech impairment, and autism in patients with haploinsufficiency of ARID1B.
Halgren C, Kjaergaard S, Bak M, Hansen C, El-Schich Z, Anderson C, Henriksen K, Hjalgrim H, Kirchhoff M, Bijlsma E, Nielsen M, den Hollander N, Ruivenkamp C, Isidor B, Le Caignec C, Zannolli R, Mucciolo M, Renieri A, Mari F, Anderlid BM, Andrieux J, Dieux A, Tommerup N, Bache I.
Clin Genet. 2011 Jul 29.

6) Mirror extreme BMI phenotypes associated with gene dosage at the chromosome 16p11.2 locus.
Jacquemont S, Reymond A, Zufferey F, Harewood L, Walters RG, Kutalik Z, Martinet D, Shen Y, Valsesia A, Beckmann ND, Thorleifsson G, Belfiore M, Bouquillon S, Campion D, de Leeuw N, de Vries BB, Esko T, Fernandez BA, Fernández-Aranda F, Fernández-Real JM, Gratacòs M, Guilmatre A, Hoyer J, Jarvelin MR, Kooy RF, Kurg A, Le Caignec C, Männik K, Platt OS, Sanlaville D, Van Haelst MM, Villatoro Gomez S, Walha F, Wu BL, Yu Y, Aboura A, Addor MC, Alembik Y, Antonarakis SE, Arveiler B, Barth M, Bednarek N, Béna F, Bergmann S, Beri M, Bernardini L, Blaumeiser B, Bonneau D, Bottani A, Boute O, Brunner HG, Cailley D, Callier P, Chiesa J, Chrast J, Coin L, Coutton C, Cuisset JM, Cuvellier JC, David A, de Freminville B, Delobel B, Delrue MA, Demeer B, Descamps D, Didelot G, Dieterich K, Disciglio V, Doco-Fenzy M, Drunat S, Duban-Bedu B, Dubourg C, El-Sayed Moustafa JS, Elliott P, Faas BH, Faivre L, Faudet A, Fellmann F, Ferrarini A, Fisher R, Flori E, Forer L, Gaillard D, Gerard M, Gieger C, Gimelli S, Gimelli G, Grabe HJ, Guichet A, Guillin O, Hartikainen AL, Heron D, Hippolyte L, Holder M, Homuth G, Isidor B, Jaillard S, Jaros Z, Jiménez-Murcia S, Helas GJ, Jonveaux P, Kaksonen S, Keren B, Kloss-Brandstätter A, Knoers NV, Koolen DA, Kroisel PM, Kronenberg F, Labalme A, Landais E, Lapi E, Layet V, Legallic S, Leheup B, Leube B, Lewis S, Lucas J, MacDermot KD, Magnusson P, Marshall C, Mathieu-Dramard M, McCarthy MI, Meitinger T, Mencarelli MA, Merla G, Moerman A, Mooser V, Morice-Picard F, Mucciolo M, Nauck M, Ndiaye NC, Nordgren A, Pasquier L, Petit F, Pfundt R, Plessis G, Rajcan-Separovic E, Ramelli GP, Rauch A, Ravazzolo R, Reis A, Renieri A, Richart C, Ried JS, Rieubland C, Roberts W, Roetzer KM, Rooryck C, Rossi M, Saemundsen E, Satre V, Schurmann C, Sigurdsson E, Stavropoulos DJ, Stefansson H, Tengström C, Thorsteinsdóttir U, Tinahones FJ, Touraine R, Vallée L, van Binsbergen E, Van der Aa N, Vincent-Delorme C, Visvikis-Siest S, Vollenweider P, Völzke H, Vulto-van Silfhout AT, Waeber G, Wallgren-Pettersson C, Witwicki RM, Zwolinksi S, Andrieux J, Estivill X, Gusella JF, Gustafsson O, Metspalu A, Scherer SW, Stefansson K, Blakemore AI, Beckmann JS, Froguel P.
Nature. 2011 Aug 31;478(7367):97-102.
ABSTRACTS OF CONFERENCE DURING THE PHD PROGRAM
MS-MLPA to study the contribution of epigenetic silencing in Retinoblastoma. (ESHG 2009, Vienna, Austria, 23-26 maggio 2009)


Sindromi emergenti da microdelezioni. ( SIGU 2009, Torino, 8-11 novembre 2009)


Sindrome emegente da microdelezione 14q32.31-qter: descizione di due nuovi casi e revisione della letteratura. (SIGU 2009, Torino, 8-11 novembre 2009)


Sindrome da microdelezione 21q22.11q22.12: descrizione di tre pazienti ( SIGU 2009, Torino, 8-11 novembre 2009)


Nuova sindrome da microdelezione 8q22.3 in 5 pazienti con ritardo psicomotorio, disturbi comportamentali e caratteristiche faciali peculiari. (SIGU 2009, Torino, 8-11 novembre 2009)


Impiego dell'array-CGH nell'analisi di materiale abortivo. (SIGU 2009, Torino, 8-11 novembre 2009)


Identificazione di regioni a bassa penetranza e difficile interpretazione clinica. ( SIGU 2009, Torino, 8-11 novembre 2009)


Dissecting the 13q14 microdeletion syndrome to define the critical region for mental retardation. ( ASHG 2009, Honolulu, Hawaii, USA, 20-24 ottobre 2009)


Array-CGH analysis in a cohort of 200 patients: the importance of parents investigation and analysis of surrounding genes. (DECIPHER 2009, Hinxston, Cambridge, UK, 20-22 maggio 2009)


Array-CGH analysis to identify novel microdeletion/duplication syndromes and to extend the clinical phenotype associated with susceptibility regions. (ASHG 2009, Honolulu, Hawaii, USA, 20-24 ottobre 2009)


Array-CGH analysis of two hundred patients with parents investigation and analysis of surrounding genes. (Troina, 17-18 aprile 2009)


Microriarrangiamenti in 95 pazienti con diagnosi di spettro autistico.(SIGU, Firenze, Itlaia, 2010)


Clinical signs, disease categories and CNVs. (Decipher Symposium 2011).
ACTIVITY DURING THE PHD PROGRAM
TRAINING PERIOD ABROAD
Wellcome Trust ranger Institute Hixton, Cambridge, UK

2010: one month
  
Stylianos Antonarakis' lab
University of Geneva, School of Medicine
1 Rue Michel Servet - 1211 Geneva
Switzerland
2012: three months


---