---
The University of Siena PhD Course in
Genetics, Oncology and Clinical Medicine

---
PhD Graduate
---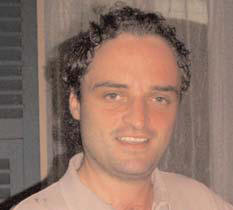 Flavio RIZZOLIO
PhD Program years: 2006 - 2010

PUBLICATIONS DURING THE PHD PROGRAM
1) Spatial and temporal expression of POF1B, a gene expressed in epithelia.
Rizzolio F, Bione S, Villa A, Berti E, Cassetti A, Bulfone A, Tribioli C, Toniolo D.
Gene Expr Patterns. 2007 Feb;7(4):529-34

2) Epigenetic control of the critical region for premature ovarian failure on autosomal genes translocated to the X chromosome: a hypothesis.
Rizzolio F, Sala C, Alboresi S, Bione S, Gilli S, Goegan M, Pramparo T, Zuffardi O, Toniolo D.
Hum Genet. 2007 May;121(3-4):441-50. Epub 2007 Jan 31.

3) X chromosome and ovarian failure.
Toniolo D, Rizzolio F.
Semin Reprod Med. 2007 Jul;25(4):264-71. Review.
4) Highly conserved non-coding sequences and the 18q critical region for short stature: a common mechanism of disease?
Rizzolio F, Bione S, Sala C, Tribioli C, Ciccone R, Zuffardi O, di Iorgi N, Maghnie M, Toniolo D.
PLoS One. 2008 Jan 23;3(1):e1460.

5) Epigenetic analysis of the critical region I for premature ovarian failure: demonstration of a highly heterochromatic domain on the long arm of the mammalian X chromosome.
Rizzolio F, Pramparo T, Sala C, Zuffardi O, De Santis L, Rabellotti E, Calzi F, Fusi F, Bellazzi R, Toniolo D.
J Med Genet. 2009 Sep;46(9):585-92. Epub 2008 Jul 15.

6) RB gene family: genome-wide ChIP approaches could open undiscovered roads.
Rizzolio F, Esposito L, Muresu D, Fratamico R, Jaraha R, Caprioli GV, Giordano A.
J Cell Biochem. 2010 Apr 1;109(5):839-43. Review.

7) CDK inhibitors: from the bench to clinical trials.
Rizzolio F, Tuccinardi T, Caligiuri I, Lucchetti C, Giordano A.
Curr Drug Targets. 2010 Mar;11(3):279-90. Review.

8) Adenosine receptor ligands in clinical trials.
Rizzolio F, La Montagna R, Tuccinardi T, Russo G, Caputi M, Giordano A.
Curr Top Med Chem. 2010;10(10):1036-45. Review.

9) R-Roscovitine (Seliciclib) prevents DNA damage-induced cyclin A1 upregulation and hinders non-homologous end-joining (NHEJ) DNA repair.
Federico M, Symonds CE, Bagella L, Rizzolio F, Fanale D, Russo A, Giordano A.
Mol Cancer. 2010 Aug 4;9:208.
ABSTRACTS OF CONFERENCE DURING THE PHD PROGRAM
PIN1 forms a protein complex with Rb2/p130 and controls its phosphorylation status (101st Annual Meeting American Association for Cancer Research, Washington, USA, 17-21 aprile 2010) 
ACTIVITY DURING THE PHD PROGRAM
TRAINING PERIOD ABROAD
          Sbarro Institute for Cancer Research and Molecular Medicine, Center for Biotechnology, College of Science and Technology,            Temple University, Philadelphia, Pennsylvania
          2009: twelve months
---