---
The University of Siena PhD Course in
Genetics, Oncology and Clinical Medicine

---
PhD Graduate
---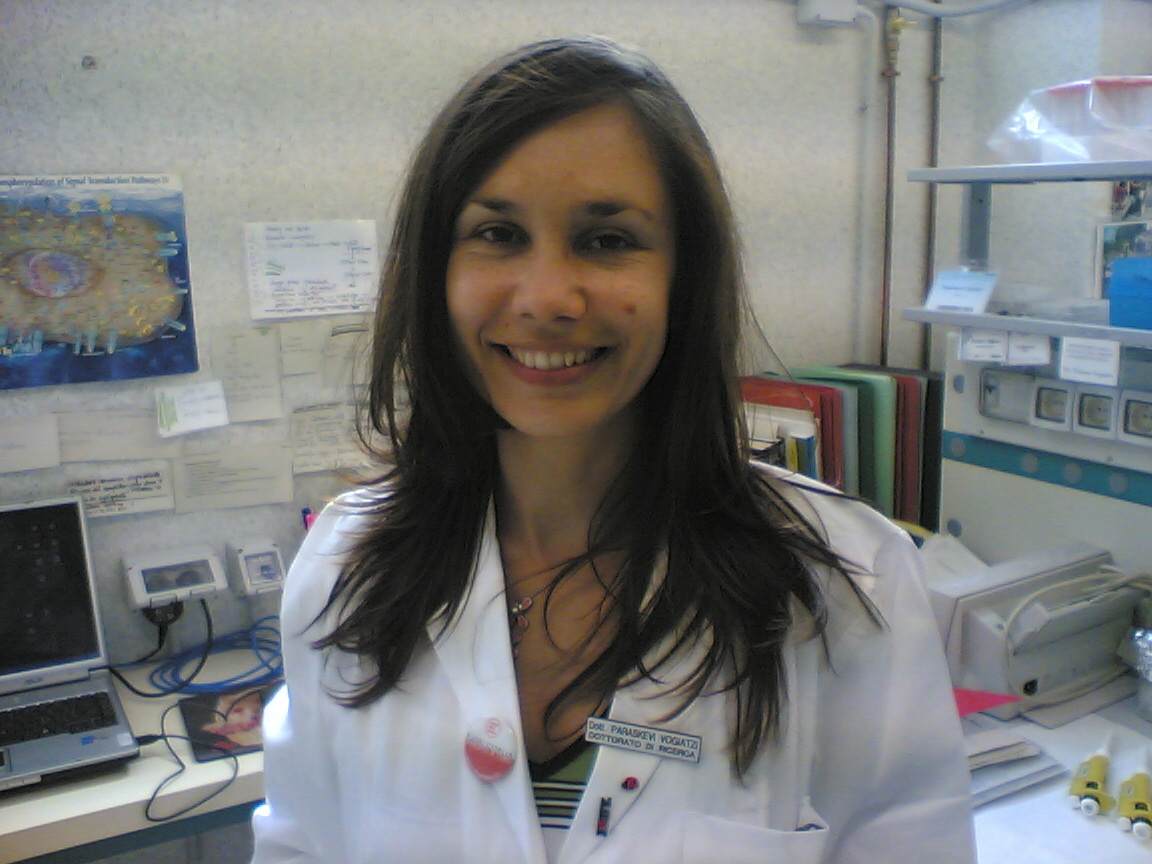 Paraskevi VOGIATZI 
PhD Program years: 2002- 2006
PUBLICATIONS DURING THE PHD PROGRAM
1) Autosomal-dominant Alport syndrome: natural history of a disease due to COL4A3 or COL4A4 gene.
Pescucci C, Mari F, Longo I, Vogiatzi P, Caselli R, Scala E, Abaterusso C, Gusmano R, Seri M, Miglietti N, Bresin E, Renieri A.
Kidney Int. 2004 May;65(5):1598-603.

2) How does the human RUNX3 gene induce apoptosis in gastric cancer? Latest data, reflections and reactions.
Vogiatzi P, De Falco G, Claudio PP, Giordano A.
Cancer Biol Ther. 2006 Apr;5(4):371-4. Epub 2006 Apr 30. Review.

3) The limitless role of p53 in cell cycle machinery: good news or bad news?
Vogiatzi P, Cassone M, Abbadessa G, Claudio PP.
Cancer Biol Ther. 2006 Sep;5(9):1090-3. Epub 2006 Sep 26.
ABSTRACTS OF CONFERENCE DURING THE PHD PROGRAM
           1) F.Mari, C.Pescucci, I.Longo, P.Vogiatzi, R.Caselli, E.Scala, A.Renieri. "High phenotypic and incomplete penetration variability               in dominant autosomic Alport's Syndrome". Sixth National Conference of the SIGU, Italian Society of Human Genetics,                       Palazzo della Gran Guardia, Verona, 24-27 September 2003
           2) C.Pescucci, F.Mari, I.Longo, P.Vogiatzi, R.Caselli, E.Scala, C.Abaterusso, R.Gusmano, M.Seri, N.Miglietti, E.Bresin, A.Renieri.                   "Autosomal dominant Alport syndrome: natural history of a disease due to COL4A3 or COL4A4 gene". EUROPEAN HUMAN                GENETICS CONFERENCE 2004 (ESHG) June 12-15, 2004, Munich, Germany
           3) F.Ariani, E.Scala, R.Caselli, C.Pescucci, I.Longo, F.Mari, I.Meloni, D.Giachino, M.Bruttini, P.Vogiatzi, G.Hayek, M.Zappella,                     A.Renieri. "STK9 è mutato nella variante di sindrome di Rett con spasmi infantili". Seventh National Conference of the SIGU-               Italian Society of Human Genetics, 13-16 October 2004, Pisa, Italy
ACTIVITY DURING THE PHD PROGRAM
1st YEAR (a.a. 2002-03)

2nd YEAR (a.a. 2003-04)

3rd YEAR (a.a. 2004-05)
TRAINING PERIOD ABROAD
Department of Pediatrics, Hematology Division, The Children's Hospital of Philadelphia; Philadelphia, PA USA.
2006: six months
---