---
The University of Siena PhD Course in
Genetics, Oncology and Clinical Medicine

---
PhD Graduate
---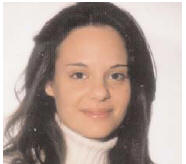 Stefania ZIMBONE
PhD Program years: 2010 - 2013

PUBLICATIONS DURING THE PHD PROGRAM

1. Adenosine A2A receptor activation stimulates collagen production in sclerodermic dermal fibroblasts either directly and through a cross-talk with the cannabinoid system.
Lazzerini PE, Natale M, Gianchecchi E, Capecchi PL, Montilli C, Zimbone S, Castrichini M, Balistreri E, Ricci G, Selvi E, Garcia-Gonzalez E, Galeazzi M, Laghi-Pasini F.
J Mol Med (Berl). 2012 Mar 

2. The purinergic P2×7 receptor is expressed on monocytes in Behçet's disease and is modulated by TNF-α.
Castrichini M, Lazzerini PE, Gamberucci A, Capecchi PL, Franceschini R, Natale M, Hammoud M, Moramarco A, Zimbone S, Gianchecchi E, Montilli C, Ricci G, Selvi E, Cantarini L, Galeazzi M, Laghi-Pasini F.
Eur J Immunol. 2013 Sep 19.

 
ABSTRACTS OF CONFERENCE DURING THE PHD PROGRAM
Annual meeting "Purine Club", Pisa, 13-14 settembre 2012: The P2X7 receptor in monocytes from patiens with Behçet's disease: expression, function and modulating activity of TNF-alpha; Purinergic modulation of fibroblast function and cardiac remodeling.
ACTIVITY DURING THE PHD PROGRAM
TRAINING PERIOD ABROAD
Hosting Institution Name
Location
Period dates


Hosting Institution Name
Location
Period dates


---